Anita had talked about moving to 'the old people's flats around the corner' for over a decade, but no move ever took place.
However, after Larry's death in 2017, Anita found herself alone in a family home full of empty rooms and a steep staircase.
Anita was still drinking and her speech was slurred every night in her phone calls. She suffered falls in the house in previous years, but Larry was on hand to make things right.
It was obvious another serious fall would happen eventually, but this time there would be no-one there to notice. A change was necessary.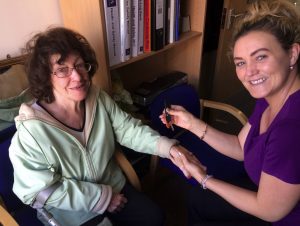 After months searching, Anita was lucky to be offered a place at 'the old people's flats around the corner', also known as Mowbray Court, an over-55s community ably managed by the hard-working Lianne Williams (right).
Anita's ground floor flat was indeed only five minutes walk away from her old address at Bedford Road.
A massive clear-out of the family home took place. Anita's fridge, sofa, bed, TV and most of her belongings moved to Mowbray. She was all set.
But that is not where the story ends….
Despite signing contracts and accepting the keys to her new flat and moving in, Anita was unhappy with the move.
She decided she now wanted to move back to Bedford Road and successfully acquired assistance to have her TV moved back there. For a fridge, Anita simply kept milk in a bowl of cold water.
Effectively, Anita was now squatting at her old address!
She refused to move back to her new Mowbray Court flat and a week later, only days before her landlord took possession, Anita fell down the stairs of Bedford Road, breaking her left arm and hip. She lay at the foot of the stairs overnight.
It wasn't until noon the next day that she was discovered and taken to hospital.
But the injuries did not end there.
After only a few days in hospital another disaster struck. Anita fell out of her hospital bed. She broke her right arm this time and so badly it required an operation.
Anita was heavily sedated with Oxycodone and kept that way for weeks. She was later discharged from hospital and moved to her son John's home in Disley to recuperate.
After a fortnight in Disley, Anita was ready to move back to Bootle. This time to Mowbray Court permanently.
It was time for this fiercely independent woman to adjust to her new life…
Despite the valuable and helpful support of Lianne, the amazing manager at Mowbray Court and the friendly residents, Anita only lasted 11 months there. Another fall put her back in hospital where she stayed until a Care Home place became available for her. That place was in Beechside Court and Anita's life changed again, in a most spectacular and positive way…